Since a particular social media post of mine didn't quite hit triple-digits, I shall not be posting a picture of every single pair of shoes that I own.
Here, however, is a "good faith" look at a handful of items from said stronghold (less than half of my kicks, but mostly the less uninteresting half).
Zoom Kobe I (DS) [Feb 2006]

Nike's first official Kobe signature sneaker (not counting the 2k4's and 2k5's). One of 4 pairs I keep in deadstock. I still have the receipt for these, which tells me that a dude named Andre at Niketown Chicago processed my order on February 23, 2006. Nike decided not to make this colorway available at local stores, hence the phone order.
Nike was supposedly planning on releasing a white colorway with purple and black accents… until he went and scored 81 points in those.
Zoom Kobe I – Minneapolis [Summer 2006]

These I actually played in. Grey suede, crinkled white leather. I guess these were the colors the Lakers wore when they played up in the tundra in the 50's. My grail is a PE colorway of these that Kobe wore once – in Game 6 of the Phoenix series that year.
Zoom Huarache 2k5 Laser "City Maps" [Winter 2005/06]

Though the 2k4's1 and 2k5's were designed to be Kobe signature shoes, Nike decided to make them a generic release due to the Colorado proceedings. This was a limited release with the map of downtown Los Angeles laser etched into the uppers, with his number 8 on the front strap. Also the first shoes to feature the "Hattori Hanzo" black mamba logo. In hindsight, I wish I had deadstocked these immediately. Instead I played with them a few times at Gregory. Fun fact: this was when Google Maps was in its infancy.

Zoom Huaraches 2K5 [Black (DS) – May 2005]

The black/purple colorway is in deadstock. They're not actually that remarkable, other than that Nike designed these to be Kobe's road playoff kicks for the 2005 NBA Playoffs. (Google "Lakers 2005 playoffs" and you'll get the dig…)
The white/purple/gold was the colorway he debuted on Christmas Day 2004 in his first game against Shaq.
Zoom Kobe IV – "Carpe Diem" (DS) [January 2009]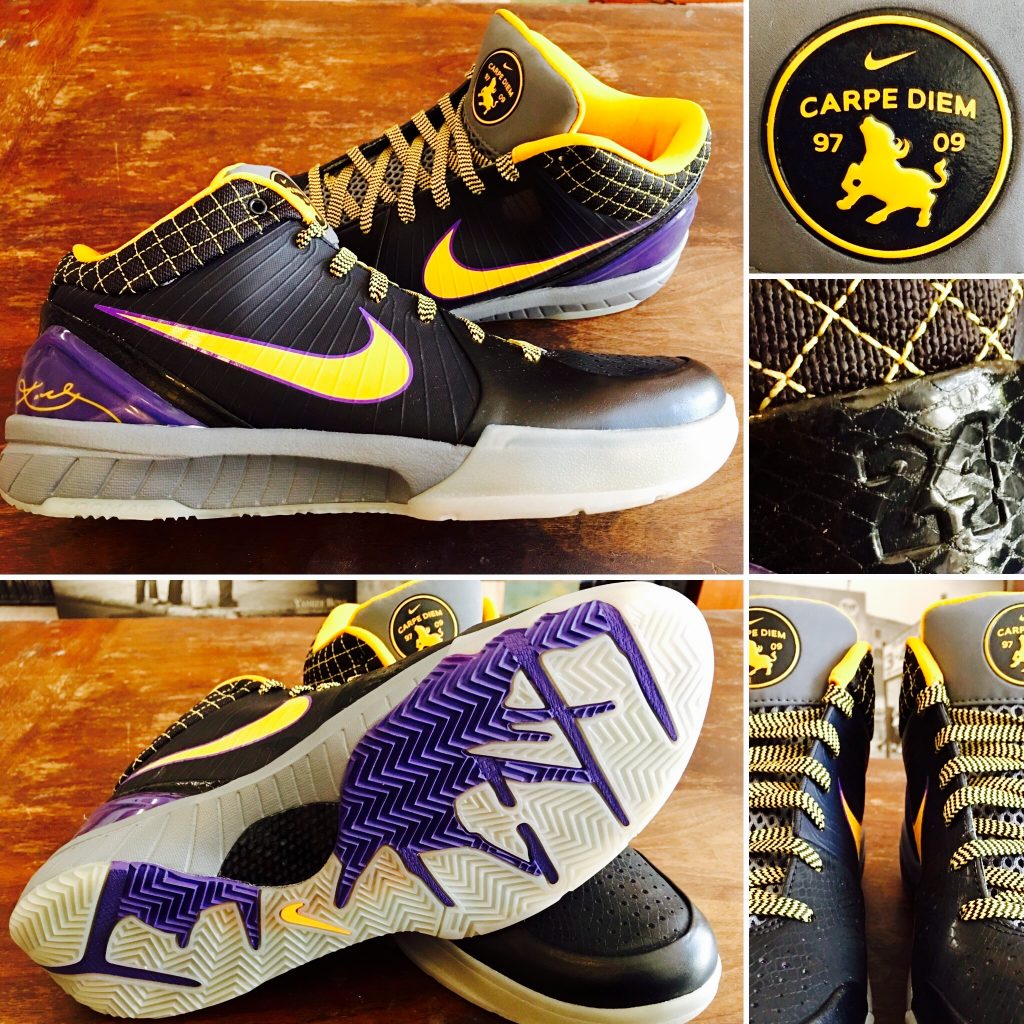 Grails that I actually own. A limited release of the first low-top Kobe's. Snagged two pairs of these – and after these pics, this pair will go back to slumber. Released in the year of the bull to celebrate a dozen years in the league. Patent leather fanciness, and the first Kobe's to use flywire to shed some mass. The Lakers went on to win their first post-Shaq title this year. Next to the Jordan V's, this is my favorite pair in the "vault".
Zoom Kobe IV [Spring 2009]

A more general release of the IV's which I wore all over the place. Came with three sets of laces – white, black, and yellow. You can see my preference.
Zoom Kobe V – "Miles Davis" [Spring 2010]

Because the blues. Out with the leather, in with the full-on flywire all the way around. There were a pair of special colorways that Kobe wore in the Finals against the Celtics ("Big Stage") that I still long for…
Zoom Kobe VI – "Glass Blue" [March 2011]

Colorful and sparkly. Worn casually a small handful of times.

Zoom Kobe VI "Lightbulbs" [April 2011]

Nike was cranking out the crazy colorways to capitalize on another potential Lakers three-peat (which didn't happen). I get to wear these once a year *if I'm brave*.
Zoom Kobe VII "Poison Dart Frog" [Spring 2012]

Released on Easter Sunday, 2012 (don't ask me for the significance). Black mamba, poison dart frog. All about quick lethal strikes against opponent. Worn a couple of times for… uh… "casual" wear.
Kobe X Elite [2015-16]

They're… well… purple. Flyknit over a solid frame. Not much story to these as Kobe sat out most of the year after tearing his shoulder.
Air Jordan V – Retro OG

Back in 1990 these were the first – and only – pair of Jordans I ever owned. I remember the societal scoffing at paying north of $100 for a pair of sneakers. Oh, if they could only see us now. Took a few pics and promptly sent these babies straight to the vault.
By the way. If anyone ever spots the black/yellow laser 2k4's in a size 10, drop everything and message me immediately.↩︎