This last week of classes usually consists of SERIOUS study time for students as they prep for final exams.
Occasionally, however, students will take the opportunity to sign yearbooks. And socialize. Or play cards. Or anything that does not involve doing actual work. You get the idea.
Six years ago, at the tail-end of Season One, my 1st period Pre-AP Algebra II class introduced me to one of the most entertaining distractions ever concocted:
I distinctly remember the kids in that class convincing me to play the game on the big projector screen, to which I thought, "what the heck, why not."
If you have never played the game,1 let me tell you, it earns its moniker: It is crazy impossible. Students had to delicately walk me through the first 18 questions. Then came the following gem, question 19:
The hint is the phrase on the painting that reads "BOGGY". This requires the player to take the mouse and click on the paint buckets with the colors spelled out by that acronym: Blue-Orange-Green-Green-Yellow. After having that much explained to me, I looked at the class like an overly-confident n00b and proudly proclaimed,
"I got this".
I proceeded to click on the bottom-right paint bucket, which is blue, of course.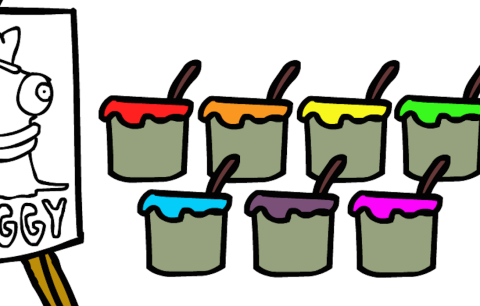 Well, at least it LOOKS blue if you're colorblind.

This is the very next thing that everyone in that class saw:
After hearing a few scattered gasps of "oh what just happened", I recall all 30 students looking at me with puzzled looks of bewilderment, and when they realized what had just happened,2 everyone had a good laugh, and then proceeded to go back to working on their final exam reviews.
I'm not sure why I suddenly recall this fun moment from my first full year of teaching, but it just goes to show that often it is the moments that have nothing to do with teaching math that we remember years on down the road.
If you're on a computer with Flash, try it here… otherwise, there is an iOS app on the app store, but it's not free. Uber-kudos if you can even make it to #19. [↩]
Yes, they all knew I was colorblind, as it came up in a probability lesson in April. [↩]